Location of the Best Caravan and Camping Park in Kerry!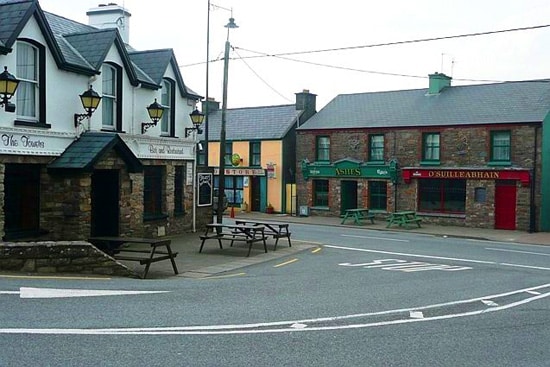 Glenross in Situated on the spectacular Ring of Kerry, overlooking Rossbeigh Beach and the Dingle Mountains. Quietly located before entering Glenbeigh Village this award winning Caravan Club Affiliated Site is attractively laid out with hard standing pitches with stunning views of the sea.
Dooks Golf Course is just 3KM away. The park makes an ideal base for touring the Ring of Kerry, Killarney and Dingle.
Rossbeigh Beach (A blue flag beach)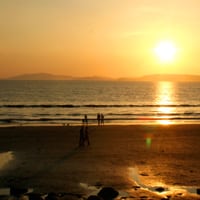 Rossbeigh Beach which is located 2 km from Glenbeigh Village is a beautiful stretch of 6 miles of golden sand known for safe swimming and water sports and lies under the shadow of Curra Hill.
There is a new state of art children's playground, tennis court, basket-ball and five aside court to suit all ages.
Walking in Glenbeigh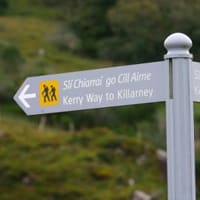 The mountain scenery is magnificant and the circuit of hills from Seefin to Drung Hill is called the Glenbeigh Horseshoe.
The circuit has a series of glacial corries and lakes which lie at the head of the Behy valley. Trout fishing in Coomasaharn Lake is one of the largest.
Golfing in Glenbeigh
For the golfer who is seeking a beautiful and tranquil environment Dooks Golf Course is the place. Located 4 km from Glenbeigh Village this 18 hole championship links course is set out on one of the three stretches of sand dunes at the head of Dingle Bay. In the immediate foreground are the sand dune peninsulas of Rossbeigh and Inch and just a few miles away the whitewashed houses of Cromane fishing village provide an eye catching distraction. A truly magical location for a stunning course.
Horse-Riding in Glenbeigh
Burkes's Horse Treking Centre provides horses and ponies for people of all ages and caters for novice riders. All of the treks go to Rossbeigh Beach.
Local activities include:– Cycling, water sports, fishing (sea, river & lake), horse riding, walking, jogging and mountain climbing and Kerry Way Walking.
How to find us
From Killarney/Killorglin take the N70 towards Glenbeigh. Park is on right just before the village.
Nearest Airport Kerry: Total Distance to Glenbeigh is 36KM
Start out at Kerry Airport. Turn left onto Farranfore – N22. Turn right onto the R561. Bear left onto the N70. Continue straight onto the N70 entering Milltown, Killorglin. From Killorglin take N70 ring of Kerry to Glenbeigh.
By Bus
Bus passes through Glenbeigh each day either going or coming from Killarney. Stop bus outside of houses. Check timetables at local Post Office or visit CIE Website.